After Covid Check-up
To assist you or your staff in the event of Covid-19 symptoms or a positive diagnosis.
This check-up is for anyone wishing to assess their health after a suspected or confirmed Covid-19 infection.

It includes:
Preliminary medical questionnaire
Covid-19 serology test (ELISA technique)
Complete laboratory work-up (CBC, CRP, urea, creatinine, AST, ALT, glucose, HbA1c, D-dimer)
Thoracic CT scan
Pulmonary function tests
Consultation with one of our Covid-19 specialist doctors
(A PCR test may be proposed based on the patient's clinical exam.)
Following the check-up, a full medical report is sent to the patient by postal mail and/or via a telemedicine appointment.

SCHEDULE AN APPOINTMENT WITH OUR TEAM TODAY

By phone: Monday through Friday, from 9:00 am to 5:00 pm at +33 (0) 1.46.41.27.38
By email: edscom@ahparis.org
American Hospital of Paris
American Hospital of Paris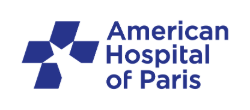 2020-07-7T17:24:53
2023-04-25T16:25:06