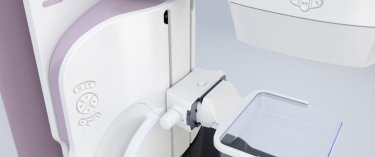 3D Mammography
Leading-edge technology dedicated to latest-generation imaging
The American Hospital of Paris is equipped with one of the ten most advanced mammography systems in the world.
Pour offrir aux femmes les dernières techniques innovantes, l'Hôpital Américain de Paris a en effet fait le choix de s'équiper d'un nouvel appareil de mammographie 3D plein champ numérique avec tomosynthèse. Il offre ainsi aux femmes une technologie toujours plus innovante et une expérience inédite pour améliorer leur confort lors d'un examen qu'elles jugent parfois douloureux. Une télécommande leur permet en effet de doser la compression de leur sein pendant l'examen.
One of the most important technological advances in recent years is breast tomosynthesis.
This 3D mammography technique consists in moving the x-ray tube around the breast to capture multiple images at the same time, as opposed to a single image captured with traditional mammography.
The images are reconstructed, or synthesized, using an algorithm similar to the one used by a CT scan. This technology facilitates the detection of early-stage cancer in a normal mammary gland, and makes it easier to distinguish dense, fibrous breast tissue which could lead to a false-positive.
A large study involving 200,000 women showed a nearly 30 percent relative increase in the number of cancers detected using this technique.
The American Hospital of Paris has acquired a new latest-generation 3D mammography device. With this system, the technician begins compressing the breast as usual, then gives the patient a remote control device which she can then use (if she wishes) to continue compressing her breast. This enables her to play an active role in the exam while improving her tolerance for this step of the procedure.<0}
Our new breast tomosynthesis device is part of our comprehensive approach to personalized patient care, provided by dedicated radiologists and technicians.
American Hospital of Paris
American Hospital of Paris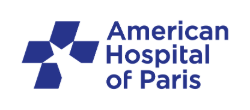 2019-10-7T18:19:22
2020-09-10T12:08:43