Data Protection
Protect your personal administrative and medical data
The American Hospital of Paris has an information system designed to facilitate the management of your patient file when you, or your child, receive care. This system can also be used, as necessary, for statistical or communication purposes and for fundraising appeals, in strict compliance with medical confidentiality rules.
The administrative and medical data you provide us about you or your child is regularly saved in our system and processed under the responsibility of the AHP.
The health care professionals on the team in charge of providing care to you or your child are the only people authorized to access your medical data. To improve the quality of your care pathway, the AHP may need to share this data, with your consent, with other health care professionals outside the AHP who are also involved in your care.
The AHP stores your personal data with your medical data in your secure patient file, in compliance with regulations defined in the French Public Health Code, in particular section R1112-7, which requires health care institutions to archive medical data for at least 20 years after a patient's last visit.

Appointment scheduling and management of your file
Your personal data is needed when making an appointment on line via the remote scheduling service, which also lets you postpone or cancel an appointment. Appointment reminders are sent by SMS or email.

AHP forms
To access certain services on the American Hospital of Paris website (newsletter subscriptions, online surveys, online donations and payment of dues, volunteering), a specific form must be used, requiring that the AHP collect and process your personal data.
By completing these forms with your personal data and returning them to the AHP, you consent to the collection and processing of your data by the hospital.
Any information you provide is only used internally and is never shared with third-party companies.

Right to access, rectify and oppose
In accordance with the provisions of the French Data Protection Act of January 6, 1978, amended by the law of June 20, 2018 on personal data protection, you have the right to access, rectify, obtain further information and oppose your personal data. You also have the right to set forth directives on the conservation, erasure and sharing of this data following your death. To exercise these rights, contacts the hospital at any time:
Mailing address:
American Hospital of Paris
AHP DPO
63 Bd Victor Hugo
92200 NEUILLY sur Seine
Email address: dpo@ahparis.org
Cookies
This site uses cookies from Google Analytics, these cookies help us to identify the content which interests you most as well as to identify certain malfunctions. Your navigation data on this site is sent to Google Inc You can deactivate the use of cookies by selecting the appropriate settings on your browser.
Technical cookies
| | | |
| --- | --- | --- |
| Name of the cookie | Purpose | Shelf life |
| Tarteaucitron | Save your cookie consent choices | 12 months |
Cookies for audience measurement
| | | |
| --- | --- | --- |
| Name of the cookie | Purpose | Shelf life |
| Google Tag Manager | Audience measurement and study of the use of the website | 14 months |
American Hospital of Paris
American Hospital of Paris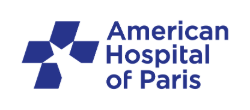 2019-06-18T10:40:17
2022-06-21T15:53:47