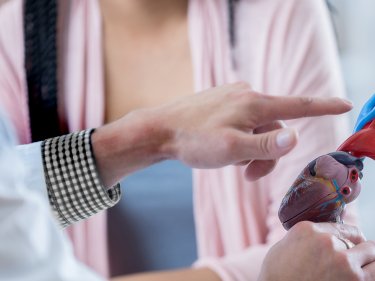 Vascular Surgery
Our unit diagnoses arterial and venous vascular diseases and provides the associated minimally invasive medical, surgical and endovascular treatment.
Vascular Surgery
Make an appointment
Make an appointment with the Vascular Surgery department
Useful information
Directions
Vascular Surgery Consultations
Office 10 - Wing B - Level 1
Vascular Explorations (Doppler ultrasound)
Wing B – Level 0
Phone: +33 1 46 41 28 10

Conditions Frequently Treated
Pathologies affecting the carotid arteries and supra-aortic trunks

Aneurysms affecting the aorta and peripheral arteries

Renal and visceral artery diseases

Upper and lower limb arteritis

Diabetic arteritis and diabetic foot

Phlebitis and postphlebitic syndrome

Vascular compression syndromes: thoracic outlet syndrome

Vascular access for hemodialysis

Venous or arteriovenous malformations
A Rapid, Multidisciplinary Response to Your Health Needs
Our unit is staffed by vascular surgeons, interventional radiologists and vascular doctors who perform non-invasive explorations.
We work in close collaboration with each other to offer the most appropriate solution to each patient.
Surgeons and Doppler-ultrasound specialists are on call 24/7 to manage emergencies via the Medical-Surgical Unit.
We work efficiently with other specialists at the Hospital involved in vascular disease including cardiologists, internists, neurologists, diabetologists and nephrologists. We also collaborate with surgeons specializing in other pathologies, who share their opinion and intervene as needed.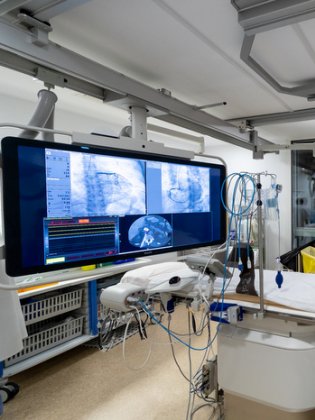 What Sets Us Apart
Collaborative approach

Collaboration with specialists practicing at the American Hospital of Paris

24/7 treatment of acute disorders

Acute vascular disorders: any necessary explorations and the associated treatment can be performed and delivered on site 24/7

State-of-the-art technology

Latest-generation diagnostic and testing services (CT angiography, magnetic resonance angiography, PET scan) available 24/7
Main Treatments & Exams Available
Our unit features world-class technology for non-invasive explorations. We also benefit from the Hospital's complete range of diagnostic and testing services (CT angiography, magnetic resonance angiography, PET scan), an outpatient surgical department and a high-performance operating suite.
Venous Doppler-ultrasound with mapping

Complete arterial Doppler-ultrasound and transcranial Doppler-ultrasound

Evaluation and monitoring of vascular access for hemodialysis

Outpatient varicose vein surgery

Treatment of pelvic varicose veins

Outpatient or 24-hour inpatient peripheral artery angioplasty

Aortic endoprostheses for aneurysms

Carotid artery and supra-aortic trunk surgery

Treatment of diabetic foot and limb rescue

Vascular access for hemodialysis