Our on-site services
Patients, families and visitors can benefit from our various on-site services, including valet parking, luggage storage, and access to our tea room.
To facilitate your arrival at the hospital, we provide you with:
Paid parking located inside the hospital (access via 84, boulevard de la Saussaye in Neuilly-sur-Seine),

Valet parking from Monday to Friday, 9 a.m. to 5 p.m., at the hospital's main entrance,

A porter, present Monday to Friday, 8 a.m. to 4 p.m., is available to patients in the reception hall of the hospital to help them with their luggage.
For snacking, the Tea Room offers a selection of hot and cold drinks and pastries. It is located just inside the main entrance to the hospital.

Opening days and times: Monday to Friday from 7:30 a.m. to 5:30 p.m., Saturday from 9:30 a.m to 5:30 p.m. and Sundays and public holidays from 10 a.m. to 4 p.m.

Vending machines are also at your disposal for sandwiches, snacks, and hot and cold drinks. They are located near the reception hall (level 1) and in the waiting area of the emergency room (level 0).
A Relais H boutique
Located near the main hospital hall (level 1), our boutique offers a selection of French and foreign newspapers and magazines, books, stamps, phone cards and gifts.
Opening days and hours: Monday to Friday 8:30 a.m. to 6:30 p.m., Saturday 9 a.m. to 4 p.m. and Sunday 2 p.m. to 5 p.m.
A cash machine
Opposite the Relais H store, an ATM offers withdrawals exclusively in euros.
In-room services
The American Hospital of Paris pays particular attention to the quality of its rooms and many services are available to patients and their families, to offer them the best conditions of comfort and serenity.
The hospital offers a range of private rooms, suites and junior suites. All of our rooms are air-conditioned and have a private bathroom, safe, telephone and television with national and international channels. Wireless internet access is also available.
Breakfast and dinner in your room designed by Yannick Alléno, a 3-star MICHELIN Chef, with menus adapted to dietetic and religious preferences and restrictions.

Room Service for patients and visitors, including meal trays, snacks and drinks, every day from 8 a.m. to 8 p.m. (menu options will be listed in your room)
American Hospital of Paris
American Hospital of Paris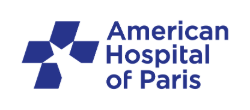 2020-06-16T10:23:03
2020-08-19T16:30:32