Covid-19 Emergency: Coping With the Fourth Wave of the Epidemic
As summer comes to an end, the fourth wave of the pandemic appears to be waning in France. The situation is still concerning and will remain so until a large majority of the population has been vaccinated. Hospitals continue to operate under pressure and our teams are fully mobilized to treat all patients, regardless of their disease, under optimal safety conditions. We still need your support to win the battle against Covid-19.

Support the Covid-19 Emergency fund
Given today's particularly difficult context for our health care workers, we have defined four priorities for urgent rollout, and we need our donors' support more than ever in order to succeed:
Bolster ICU services: A continued influx of patients suffering from severe cases of Covid-19 necessitates the expansion of our ICU services. This will entail opening additional, fully equipped ICU care beds and procuring ventilators, syringes, and infusion pumps.
Procure critical supplies, medicines and PPE: Growing case numbers entail the continuous procurement of these vital items to help us quickly and effectively treat our patients and protect patients and staff alike.
Expand Covid-19 ER capacity: Treating increased numbers of suspected and confirmed Covid-19 patients in our Emergency Room requires a rapid transformation of our premises.
Enhance frontline staff wellbeing: In this particularly high-stress period, we are offering our frontline medical teams regular consultations with an on-site psychologist or psychiatrist; activities fostering wellbeing, including meditation, acupuncture, and massage; and rearranged staff spaces with new amenities encouraging relaxation and resilience.
Today, in this unrelenting battle against the virus, we need your support more than ever. Every donation counts and only your help will enable us to fight this disease efficiently.
On behalf of our patients and health care workers, many thanks in advance for your generosity.
As a recognized institution of public benefit, the American Hospital of Paris is authorized to receive donations and bequests, allowing you to benefit from tax advantages. As soon as we receive your donation, we will send you a tax receipt enabling you to claim your tax reduction.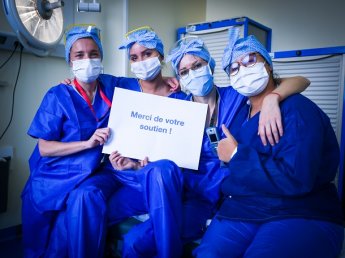 You're amazing!
Your incredible generosity has allowed us to respond quickly and effectively to this unprecedented healthcare crisis since its beginning.
Thanks to your support, we have been able to:
Perform more than 23,000 Covid-19 PCR tests;
Expand our ICU by ten beds;
Care for over 700 Covid-19 patients in hospitalization;
Overcome all stock-outs of Covid-19 equipment, medicines, and PPE;
Create separate Covid-19 and non-Covid-19 patient flows, allowing for maximum safety;
Acquire tablettes so that Covid-19 patients may communicate with their loved ones;
Improve working conditions to strengthen staff wellbeing;
Provide complimentary meals to teams during their shifts throughout the lockdown periods.
On behalf of the patients and staff of the American Hospital of Paris, thank you again for your lifesaving support and solidarity!
Many of you have sent messages of encouragement to be passed on by us to our health care workers, and we are very grateful.
Your kindness brings great comfort to our paramedical teams, who are particularly under strain from their months-long, unrelenting battle against the virus. You may continue to support them by sending a message to: relationsdonateurs@ahparis.org.
Thank you in advance!