Help Us Enhance Our Operating Suite With a Latest-Generation Hybrid Room
The American Hospital of Paris is once again looking toward the future by building a state-of-the-art hybrid room. Integrated within our operating suite, this room will meet today's rapidly evolving surgical standards with technology designed to further reduce the length of surgeries, the risk of complications, and recovery times.
Please help us fund the acquisition and installation of this new leading-edge infrastructure.
Funding in progress
70.3% of funds have been collected / Total Budget: €2,725,000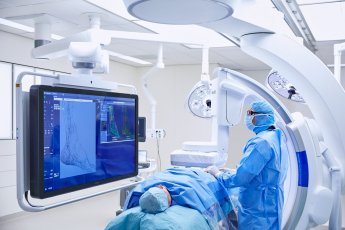 Bespoke High Technology
A hybrid room houses traditional operating equipment as well as ultramodern interventional radiology imaging and navigation systems, all in a single room. Here, doctors can perform a wide range of operations, including open surgeries, minimally invasive laparoscopic surgeries and image-guided endovascular procedures. In fact, the room's very purpose is to allow traditional surgery and interventional radiology procedures to be conducted simultaneously.

Our teams have been collaborating for almost a year on the new hybrid room's design, which must accommodate a wide variety of machines and technology and ensure all systems are compatible with each other.

In particular, all of the possible positions must be validated in order to avoid any risk of a collision during the medical procedures. Everything is meticulously planned and assessed down to the smallest detail to optimize the available space, layout and circulation pathways, regardless of the type of operation being performed.
Discover the New Hybrid Operating Room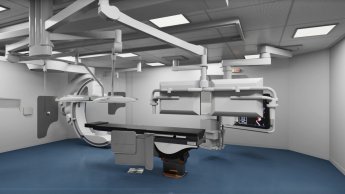 Latest-Generation Equipment
To ensure the future hybrid room is utilized to its full potential in a wide range of medical fields, it will be outfitted with state-of-the-art equipment, including a latest-generation surgical C-arm to view and obtain the real-time 3D images needed for interventional procedures. The operating table offers greater flexibility, with lateral and vertical tilting angles that accommodate even the most extreme positions while guaranteeing complete stability to the patient and outstanding ergonomics for the medical providers. The table is connected to the C-arm and has two different tops, one for traditional surgery and one made of carbon fiber for interventional radiology procedures, with no metal components that could interfere with the imaging process. Lastly, the hybrid room will be an integrated operating room equipped with a video management system. Several screens will be placed strategically throughout the room. Using a touch screen, users will be able to very easily route any video signal to any screen in the room. This major innovation opens up tremendous possibilities for real-time usage as well as streaming, since images and data can be routed to the outside.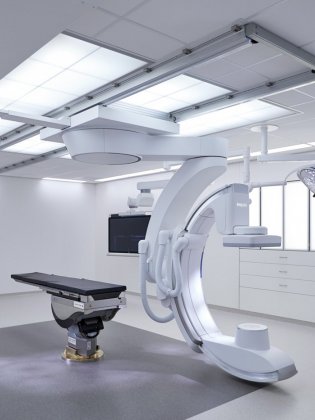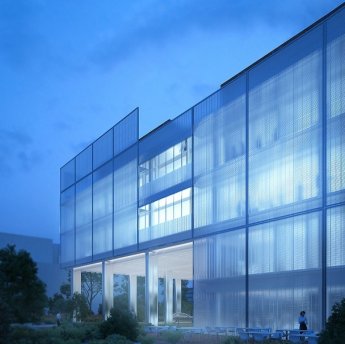 Trial Run
The new hybrid operating room carries high stakes for the American Hospital of Paris. Our goal is not only to meet the demands of a surge in activity, but also to reach a milestone in the construction of the New American Hospital. The flagship building, once completed, is expected to house at least two, if not three, hybrid operating rooms. Beyond its technical and technological aspects, the other goal of the hybrid room is to enable a maximum number of medical disciplines to seize the opportunities offered by such a facility, and in so doing offer our patients increasingly less invasive and more efficient treatment options.
We Need You
To raise the necessary funds to acquire and install our new hybrid operating room, your generosity is essential.
Total budget €2,725,000
High-tech equipment €1,860,000
Building and installation €865,000
Amount already collected €1915,410
Amount still needed €809,590
"This is a real opportunity for the American Hospital of Paris. The first hybrid rooms were deployed in university hospitals with very high surgical activity in cardiology and neurology. For a hospital like ours that doesn't practice those fields, having a hybrid room is quite exceptional. But considering that interventional medicine is the medicine of tomorrow, then we clearly had to invest in a hybrid room. In a few weeks, the American Hospital will have a room dedicated to interventional cardiology and arrhythmia, and a hybrid room for vascular and all other procedures. With this new facility, we are meeting one of the biggest expectations of patients, who want minimally invasive procedures with fewer complications and shorter recovery times.
Céline Wasmer,
Secretary General of the American Hospital of Paris