Image-Guided Biopsy
To make a diagnosis and prescribe the appropriate treatment, it is almost always necessary to have histological evidence – in other words, a microscopic analysis of biopsy tissues.
Why perform an image-guided biopsy?
An image-guided biopsy is helpful for diagnosing cancer as well as inflammatory and infectious diseases.
This procedure is mainly used to identify primary or metastatic cancer, but can also be necessary to explore other pathologies:
Infectious pulmonary or bone diseases (in particular involving the spine, when tuberculous or bacterial spondylodiscitis is suspected)
Benign pathologies: liver and kidney disease
Certain inflammatory diseases
When an abnormality is located deep in the body or is difficult to reach, it is often necessary to perform an image-guided biopsy such as an ultrasound, a CT scan or occasionally an MRI.
Greater accuracy
These minimally invasive biopsies ensure extreme operating precision, enabling the surgeon to collect enough tissue while minimizing the risk, with incisions measuring just a few millimeters long. Test results are also enhanced, as image-guidance makes it possible to identify the most active areas with the highest concentration of cells, and therefore DNA.
In personalized oncology therapy, it is sometimes necessary to analyze the tumor's genome in order to predict tumor sensitivity or resistance to targeted treatments. These treatments are discussed during multidisciplinary team meetings.
Biopsy results are generally available within three business days. Genetic analyses may require ten to fifteen additional days.
Your attending physician will keep you informed about your results and any customized treatment you may receive.
What to expect during a biopsy procedure at the American Hospital of Paris
At the American Hospital of Paris, we employ a specific technique called cone beam computed tomography (CBCT).
This procedure is performed in our Interventional Radiology Unit in a specific operating suite ensuring surgical-quality hygiene and extremely precise guidance (within millimeters). The tissues collected are analyzed by an anatomical pathologist.
The biopsy procedure is performed under the appropriate local, regional or general anesthesia.
General anesthesia is adapted to the type of procedure being performed, to ensure maximum safety and prevent all pain during and after the biopsy. Patients are systematically monitored in a post-anesthesia care unit.
Most biopsy procedures are performed on an outpatient basis, with patients spending a total of approximately six hours at the hospital. In some cases recovery requires an overnight stay at the hospital.
The techniques and risks associated with these biopsies, as well as alternative options, will be explained to you during a preliminary consultation with the interventional radiologist and anesthesiologist.
CBCT biopsy of a lung nodule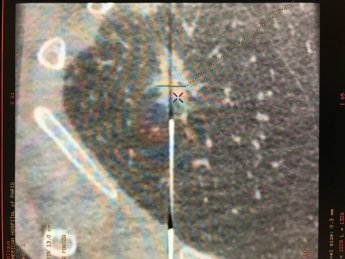 American Hospital of Paris
American Hospital of Paris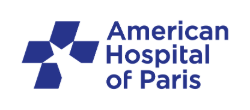 2020-01-16T12:00:20
2022-07-19T15:31:00