Reproductive Medicine and Technology
Our unit addresses male and female infertility using the most recent techniques performed by highly skilled professionals.
Reproductive Medicine and Technology
Make an appointment
Make an appointment with the Reproductive Medicine and Technology department
Useful information
Directions
Assisted Reproductive Technology Unit
Wing D level 2
Open Monday through Friday from 8 am to 6 pm and Saturday from 8 am to 3:30 pm
Most Frequent Procedures
Conventional IVF (standard in vitro fertilization)

Intracytoplasmic sperm injection (ICSI) and embryo transfer

Intracytoplasmic morphologically selected sperm injection (IMSI)

Embryo and egg freezing (vitrification)

Surgical sperm retrieval and freezing

Endometrial receptivity analysis
Outstanding Patient Care
The ART unit of the American Hospital of Paris was one of the first centers of its kind in France. It was inaugurated in 1984 by a team of professionals who had taken part two years earlier in the birth of Amandine, the first French "test tube baby." In the years that followed, doctors at the American Hospital of Paris pioneered the development of intracytoplasmic sperm injection (ICSI). In 1994, Audrey, the first baby born in France thanks to this new in vitro fertilization technique, was born at the American Hospital of Paris.
Today, our ART unit features a highly specialized team of biologists who oversee all laboratory procedures, 23 private practice physicians specialized in reproductive medicine, a team of uro-andrologists present from the initial consultation to the surgical retrieval of sperm, a team of genetic consultants and a team of psychologists. We manage more than 2,300 IVF procedures and 1500 frozen embryo transfers per year, making us the leading center for assisted reproductive technology in France. Our ART laboratory is ISO 15189-accredited by COFRAC (French accreditation committee, no. 8-4195) and by the American Joint Commission.
The American Hospital of Paris's Assisted Reproductive Technology center uses an electronic identity monitoring system called RI WitnessTM. Each couple receives an electronic ID card. Thanks to this card, the system can check their identity on every piece of equipment and material used for each fertilization attempt. RI WitnessTM ensures the traceability of all steps involved in the handling of sperm, eggs and embryos. Radiofrequency identification chips containing the identity of both partners are placed on the laboratory dishes. This system ensures an extremely high level of security in terms of identity monitoring.
Our unit operates within the Hospital and has access to multidisciplinary services on site including outpatient care, an operating suite, anesthesiologists, specialized nurses and an array of inpatient units.
The American Hospital of Paris also features a Fetal Medicine Unit and a maternity ward.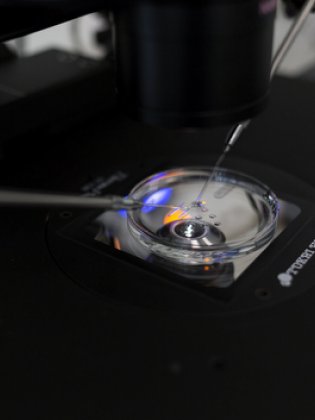 What Sets Us Apart
Latest-generation equipment

enabling the use of all ART techniques under optimal conditions of safety and efficacy. In particular, the use of incubators featuring time-lapse technology (EmbryoScope) creates an embryo culture environment guaranteeing the best chances for pregnancy.

A state-of-the-art hospital environment

All supplementary exams can be performed on site, and consultations are available in all medical specializations

Support from start to finish

Our unit works closely with our Fetal & Genetic Medicine Unit and maternity ward, all in a single location
Registration
To register, you must first consult a gynecologist from our ART Unit.
During this initial consultation, the gynecologist will review your medical file and prescribe any supplementary exams needed to make sure ART treatment is appropriate to your situation.
You can also benefit from the advice and opinion of our biologists in order to optimize and personalize your treatment strategy.
Notre centre d'AMP et le système de vigilance d'identité
Our biologists
Dr Frida Entezami

Contact : 0146412881