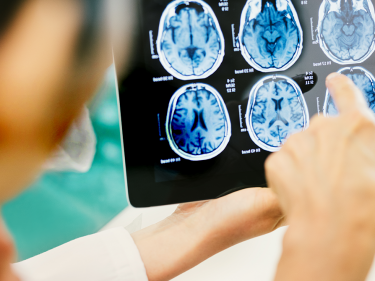 Neurology
Our neurology unit, led by Pr. Hervé Taillia, is composed of five neurologists who offer patients consultations, neurophysiological exams (EEG, EMG) and hospitalization (outpatient, inpatient or emergency).
Neurology
Make an appointment
Make an appointment with the Neurology department
Useful information
Contacts
Display all contact information
Directions
Neurology consultations
Level 1 - Outpatient Department 49 and 8
Functional investigations
Niveau B0 (rez-de-jardin) pour les Electromyogrammes (EMG) et Electroencéphalogrammes (EEG)

Conditions Frequently Treated
Cerebrovascular Accidents (CVA)

Transient Ischemic Attacks (TIA)

Multiple Sclerosis (MS) and immune-inflammatory diseases of the central nervous system

Parkinson's and related diseases

Memory consultation: Alzheimer's and related diseases, chemobrain

Headaches: migraines, cluster headaches, trigeminal and Arnold's neuralgias

Malignant and benign brain tumors

Peripheral nervous system disorders (polyneuropathy, polyradiculoneuritis, sciatica, cervicobrachial neuralgia)

Infectious and tropical neurological diseases

Brain, medullary and peripheral nerve toxicity complications from cancer treatment (chemotherapy, radiation therapy).
A therapeutic approach based on availability
 All neurologists practicing in our unit have been selected through a rigorous process for their skills in all areas of general neurology.  Their accreditation is reviewed every two years.
Each patient is under the sole responsibility of one of the doctors in our unit. The doctor coordinates all steps in the hospitalization process with healthcare personnel (admission, observation, prescriptions, treatments, diagnosis and notification of diagnosis, relationships with support persons, discharge or transfer process, hospitalization report, discharge orders, and relationship with the referring physician).
Our doctors are committed to being present and reachable: we make rounds to examine our patients every day, with on-going care management provided by the neurologists 24/7 every day of the year. Patients can reach their doctors at any time.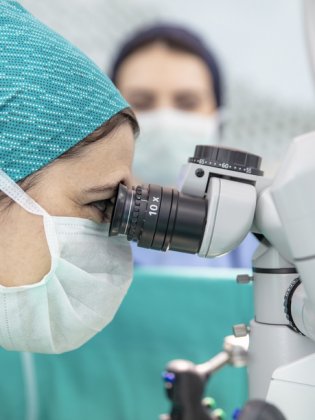 What Sets Us Apart
Diagnosis and treatment of all neurological disorders

taking into account the patient's other conditions in collaboration with other specialties.

Our physicians are knowledgeable and available

passionate, informative and devoted; attentive to their patients and families

World-class diagnostic and testing services

With the state-of-the-art equipment at the American Hospital of Paris, all exams and testing can be performed on site and results can be obtained very quickly.
Treatments and Exams Offered
Our neurology unit offers our patients the full range of leading-edge diagnostic techniques and therapies, with multidisciplinary briefing meetings. The scope of our practice is extremely broad, with numerous evaluation and treatment techniques. For cerebrovascular accidents and transient ischemic attacks, the therapeutic treatment arsenal includes:
Thrombectomy at Sainte-Anne Hospital Center

Cardiovascular check-up (in cardiovascular intensive care unit if necessary).

CT scan, CT Coronary Angioscan

Cerebral and medullary arteriogram

Doppler ultrasound of cervical arteries

Transthoracic and transesophageal echocardiogram

Holter monitor, heart rhythm and pressure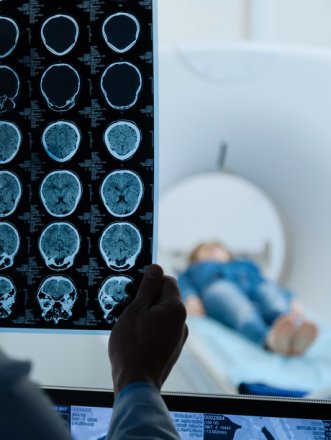 To find out more
A number of therapeutic and diagnostic methods are used by our specialists, according to conditions frequently encountered in our unit:
Multiple sclerosis (MS) and autoimmune disorders: all MS treatments are available, as well as intravenous immunoglobulins (IVIG) and rituximab for autoimmune disorders. MRI services has two MRI scanners on site (1.5T and 3T as of February 2020) and two neuroradiologists.
Parkinson's disease: DaTscan on site. All conventional treatments are available, as well as apomorphine subcutaneous infusion and Duodopa via percutaneous gastrojejunostomy.
Memory consultation: neuropsychological check-up, PET scan, FDG and amyloid PET, MRI, biomarkers in cerebrospinal fluid (lumbar puncture)
Headache consultation: all conventional treatments are available, including infiltration of Arnold's nerve and oxygen therapy.
Brain tumors: MRI, PET scan, brain surgery and anatomical pathology in connection with La Pitié-Salpétrière hospital. All chemotherapy treatments are performed on site at the American Hospital of Paris. Cerebral radiation therapy (conventional and stereotactic) is performed at the radiation therapy center located at Porte de Saint-Cloud. Monthly multidisciplinary consultative meeting
Epilepsy: Electroencephalograms are read by the patient's neurologist. MRI. All conventional medications are available.
Peripheral nervous system disorders: Electromyograms are performed and read by the patient's neurologist. Lumbar puncture. IVIG treatment.
Complications of the central and peripheral nervous systems in oncology: in coordination with the OncoNeuroTox network