Governance
The American Hospital of Paris has a unique organizational structure with three governance bodies: the Board of Governors, the Management Team, and the Medical Board, who work together to develop and implement the Hospital's strategy in order to carry out our mission.
The Board of Governors
The Board of Governors is made up of thirty prominent members of the international community (American,French, and others). They act in accordance with the policies and strategy of the American Hospital of Paris.The Governors – who are also business executives, bankers, diplomats, and lawyers – volunteer their time and experience to the American Hospital of Paris. They bear the moral and fiduciary responsibility of the Hospital and are among our most generous donors.
The main committees of the Board of Governors:
The Executive Committee approves the Hospital's management.
The Finance Committee approves and monitors the budget and investments.
The Strategy Committee examines and validates strategic direction.
The Patient Care Committee is in charge of monitoring quality and safety of care.
The Development Committee supervises fundraising.
The medical board
The Medical Board's 24 members include the Hospital's Unit Heads and Department Chiefs, who represent all 324 practitioners. The Medical Board guarantees the highest level of professionalism, patient care and ethical practices throughout the Hospital. Nine of its members form the Executive Committee (the Chairman, the Vice- Chairman and seven practitioners from the main medical fields)
It meets twice a month, either alone or together with the Management Team. Its role is to make proactive proposals to the Hospital's administration to obtain a consensus, working toward the collective goals of the Hospital.
The management team
Our Chief Executive Officer is appointed by the Board of Governors to run the Hospital and oversee its operational management. He leads and coordinates the Management Team.
The Management Team is in charge of developing the American Hospital of Paris strategic plans, which are submitted, discussed and approved by the Board of Governors. It presents and illustrates the application of this strategy to the various committees of the Board of Governors. The Hospital's physicians are closely involved in its development and implementation, in particular through continuous dialogue with the Medical Board. The Management Team also plays a key role in communicating with supervisory bodies, most importantly the Agence Régionale de Santé d'Île-de- France and the Ministry of Health, to promote the Hospital's strategy and prepare applications for authorizations of equipment or clinical activities. Lastly, the Management Team defines and implements partnerships with Parisian or international hospitals (as a priority with Université Paris-Descartes and NewYork- Presbyterian Hospital).
American Hospital of Paris
American Hospital of Paris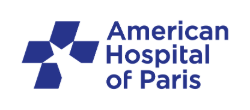 2019-07-2T16:07:05
2020-09-10T12:16:23