Patients' Committee
The Patients' Committee examines complaints made by patients or their families.
Your opinion on your stay or your care
If you are not satisfied with the care or services provided to you during an appointment at the American Hospital in Paris, you are invited to inform the manager of the department in which you are welcomed.
If your dissatisfaction concerns your hospitalization, you can inform your doctor and the lead nurse of your care unit.
You can also contact the person in charge of patient relations, by entering your detailed request in the form by following the link.
If these first steps are not satisfactory to you, you can send a letter to the General Manager who, after investigation, will inform you of the follow-up given to your complaint.
American Hospital of Paris
Chief Executive Officer
63, boulevard Victor Hugo
922000 Neuilly sur Seine
Finally, if you deem it necessary, you can refer the matter to the Patient's Committee of the American Hospital of Paris. This commission's mission is to ensure that patients' rights are respected, to facilitate their procedures, to ensure that they receive an answer to their complaint, and to contribute to improving the quality of care.
Hôpital Américain de Paris
The Patients' Committee
63, boulevard Victor Hugo
922000 Neuilly sur Seine
Email address: commission.usagers@ahparis.org
The Patients' Committee has a mission to ensure the respect of patient rights, facilitate the complaint process and to contribute to the improvement of the quality of services and care management.
For more information about the Patients' Committee, Click on the button "Contact Us" at the bottom of this page, and select "Contact the Patient Relations Department".
Members of the Committee
President: Pr. Robert SIGAL, Chief Executive Officer
Vice President and Patient Representative: Mr. Francis BAILLY
Patient Representatives: Mrs Alix de NICOLAY - Mr. Hervé-Patrick STELLA - Mrs. Colette SEROUSSI
Medical Mediator: Dr. Philippe TRIPON
Medical Mediator - Substitute: Dr. Hervé GOMPEL
Non-medical Mediator: Mrs. Sophie LE POURHIET, Patient Experience Manager
Non-medical Mediator - Substitute: Mrs. Paula NORMINGTON, Quality Assurance Nurse
American Hospital of Paris
American Hospital of Paris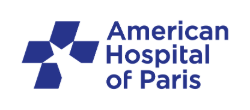 2020-06-19T16:42:21
2023-02-1T15:22:41