Patients' Committee
The Patients' Committee examines complaints made by patients or their families.
The Patients' Committee has a mission to ensure the respect of patient rights, facilitate the complaint process and to contribute to the improvement of the quality of services and care management.
For more information about the Patients' Committee, Click on the button "Contact Us" at the bottom of this page, and select "Quality of Care".
Members of the Committee
President: Pr. Robert SIGAL, Chief Executive Officer
Vice President and Patient Representative: Mr. Francis BAILLY
Patient Representative: Mrs Alix de NICOLAY
Patient Representative - Substitute: Pr. Gérard FRIEDLANDER
Medical Mediator: Pr. Jean-Marie DESMONTS
Medical Mediator - Substitute: Pr. Georges CASANOVA
Non-medical Mediator: Mr. Yann LEGER
Non-medical Mediator - Substitute: Mrs. Paula BROUMAULT
Chief Quality Officer: Mrs. Céline WASMER, Secretary General
American Hospital of Paris
American Hospital of Paris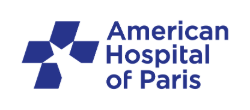 2020-06-19T16:42:21
2020-06-19T16:46:00