Help us finance the construction of our new Medical Imaging Center
In January 2020, the MRI and CT scan suites of the American Hospital of Paris's new Medical Imaging Center opened. One year later, on January 12, 2021, the PET scan suite welcomed its first patients. Following almost three years of construction, the entire center is now fully operational and is one of the most well-appointed in the greater Paris area. Featuring two CT scanners, two MRI machines and one latest-generation PET scanner, it has practically doubled the Hospital's diagnostic capacity. Please help us complete the financing of this center of excellence.

Funding in progress
55.7% of the project financed / Budget: €10,000,000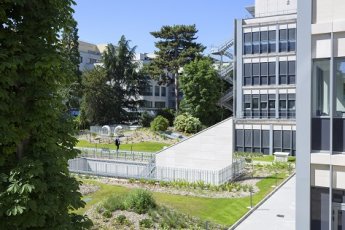 Boost the diagnostic capacity of the American Hospital of Paris
Slice imaging has become an essential tool in the delivery of medical care thanks to constant advances in technology and science. In the space of a few years, the number of imaging exams has climbed sharply in a broad range of medical fields. Thanks to our new Imaging Center, we can now meet the growing demand for slice imaging while offering a unique patient experience.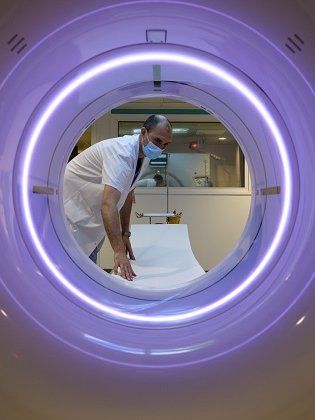 Develop a medical center of excellence
Offer rapid and accurate diagnoses by combining latest-generation equipment in a single location, allowing exams to be synchronized if necessary.
Increase the number of benefitting patients through increasingly rapid machines.
Ensure a smooth and personalized patient pathway, with separate patient flows for each pathology and a single support person designated to each patient.
Receive patients in a modern, warm and reassuring environment featuring natural light from the central patio and calm, soothing preparation rooms.
Develop fields of excellence by combining our specialists' expertise with the high performance of latest-generation equipment.
We still need your support
To complete the funding for our medical imaging center, we must raise an additional €4,331,500.
As a recognized institution of public benefit, the American Hospital of Paris is authorized to receive donations and bequests, allowing you to benefit from tax advantages. As soon as we receive your donation, we will send you a tax receipt enabling you to claim your tax reduction.
Thank you for your generosity
My first goal is to set up an entirely personalized pathway based on each patient's medical file.

We have developped this pathway thanks to our medical and technological expertise. Our task is to use our wide range of diagnostic and testing services to their full potential, for each patient, in order to define – as accurately as possible and from the outset – the exact diagnostic pathway.

 
Professor Jean-Luc Sarrazin, Chief of Medical Imaging and Nuclear Medicine