Medical Imaging Incorporates Artificial Intelligence
In July, our imaging department received its first three artificial intelligence (AI) solutions, which we have incorporated as a standard component of medical imaging in three major areas of medicine: breast cancer, lung cancer and neurodegenerative diseases. This fall, we will be developing new AI applications with our partner, Columbia University in New York City.
Thank you to all of our donors who supported this revolutionary project.

Financed
Project entirely financed by donations / Total cost: €450,000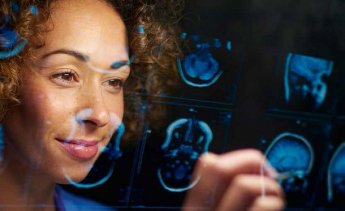 Become a leader in the field of artificial intelligence
By giving patients access to the first three applied AI medical imaging solutions and developing promising research projects, the American Hospital of Paris is striving to become a leader in this field.
An ambitious project
1. Make artificial intelligence a clinical reality accessible to all
Three innovative applications were installed in July 2020. They are available to all patients and allow us to respond to major health concerns.
Improve breast cancer diagnosis: the software was trained using a database containing more than one million images. It improves identification of the most suspicious areas. Results are given a score based on the risk of the presence of cancer.
Facilitate the early detection of lung cancer: this solution automatically detects and measures lung nodules as well as their growth rate and composition, in order to identify lung cancer at a very early stage.
Predict how neurodegenerative diseases will evolve: the software automatically monitors and measures brain lesions, allowing our doctors to predict how the disease will evolve over time and determine the most appropriate treatment within a shorter timeframe.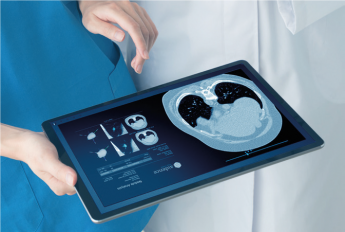 2. Develop new solutions that are vital to your health
The American Hospital wishes to develop new AI software solutions today by collecting internal data.
We are participating in a research project initiated by Columbia University to develop a software solution capable of detecting and analyzing microcalcifications that signal early-stage breast cancer.
Our Hospital, which is already a pioneer in heart disease screening through coronary calcium scoring, has the necessary amount of patient data to develop an AI solution.
For further information, please see our brochure.
Provisional Calendar
Installation in our imaging department of the first three AI solutions available to patients.

Completion of a research project conducted jointly with Columbia University to improve breast cancer screening.

Installation of a software solution designed by Columbia University to detect microcalcifications in breast cancer screening.

Development of coronary calcium scoring software to better evaluate the risk of a cardiovascular event, in partnership with INCEPTO.
Thank you for your generosity
The American Hospital of Paris thanks all the generous donors who supported this revolutionary project enabling the use of artificial intelligence in medical imaging.