Rhythmology intervention in livestream
French and international cardiologists attended the event with connections from Africa, the United States, Great Britain, France ...
On May 5, 2021, a rare intervention took place at the American Hospital of Paris, broadcast as a livestream for an audience of cardiologists
The 31-year-old patient has left atrial ectasia more than 10 cm in length, complicated by rapid symptomatic tachycardia at more than 180 beats per minute. This is a rare and exceptional anatomical malformation, making this interventional procedure unique.
He therefore benefited from an ablation of left atrial tachycardia (shots at the lesions at the origin of this arrhythmia and therefore of these palpitations). Dr Sana Amraoui and Thierry Zerah, cardiologists and rhythmologists at the American Hospital of Paris, teamed up with Professor Pierre Jaïs, head of the electrophysiology unit of the Bordeaux University Hospital. They used innovative 3-dimensional mapping techniques for reconstructing the heart's electrical activity and radiofrequency. This unique procedure was a therapeutic success for the patient who emerged without his arrhythmia.
American Hospital of Paris
American Hospital of Paris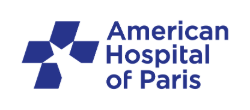 2021-05-6T13:38:10
2021-05-7T12:34:21