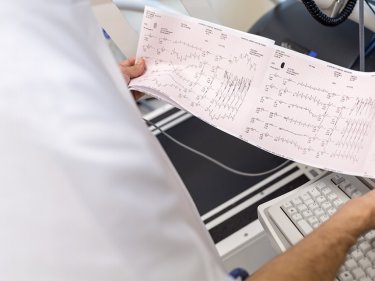 Cardiology
Under the responsibility of Dr. François Tarragano, the Cardiology Unit of the American Hospital of Paris offers medical and interventional treatment for all heart-related disorders.
Cardiology
Make an appointment
Make an appointment with the Cardiology department
Useful information
Contacts
Display all contact information
Directions
Consultations
Office 21, 22, 22 bis, 23 : WIng F - Level 1
Coronary Functional Investigations
Wing B - Level 0
Phone: +33(0)146412810
Interventional Cardiology
Wing A - Level 2
Conditions Frequently Treated
Coronary artery and heart muscle diseases

Structural pathologies (patent foramen ovale, interauricular communication)

Hypertrophic cardiomyopathy

Pericardium diseases (acute and chronic pericarditis)

Peripheral and central vascular disorders
Comprehensive Care for Heart Disease
Our unit delivers cross-disciplinary care for the various types of heart disease, including screening, diagnostics, intensive coronary care, medical and interventional treatment.
We offer:
General or specialized cardiology consultations by appointment, with specialists in each sub-specialty: hypertension, cardiac rhythm disorders, heart failure, coronary disease, sports cardiology, and so on.
Diagnostic and testing technology for imaging, coronary investigations, and coronary, structural and vascular interventional cardiology.
A coronary care unit where patients are placed under constant monitoring to ensure maximum safety.
Our coronary care unit specialists are available 24/7, with a cardiologist on duty at all times and interventional cardiology specialists on call.
Coronary surgical procedures are performed in leading hospitals accredited by the French Agence Régionale de Santé, under the terms of a partnership between the American Hospital of Paris and these hospitals.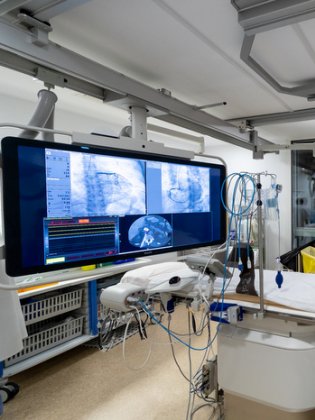 What Sets Us Apart
All types of coronary emergency handled 24/7

Coronary care unit where a cardiologist is present day and night, and interventional and vascular cardiology treatments are available at all times.

State-of-the-art diagnostics and testing

Coronary functional investigations, myocardial scintigraphy, cardiac MRI and CT scans

Complete cardiological consultations

Prevention, screening, rapid diagnosis and treatment
Treatments & Exams
Working in collaboration with the different departments of the American Hospital of Paris, in particular imaging, endocrinology and internal medicine, the Cardiology Unit boasts an efficient and complete therapeutic arsenal which includes the prevention, screening, monitoring and treatment of diseases affecting the heart.
Resting electrocardiogram

Stress test (treadmill, stationary bike and VO2 max)

Transthoracic and transesophageal coronary Doppler ultrasound

Doppler ultrasound of the arteries and veins

24-hour or seven-day Holter monitor to record heart rhythm (ECG)

24-hour ambulatory blood pressure monitoring

Temporary or permanent pacemaker implantation

Coronary revascularization

Treatment of pulmonary embolisms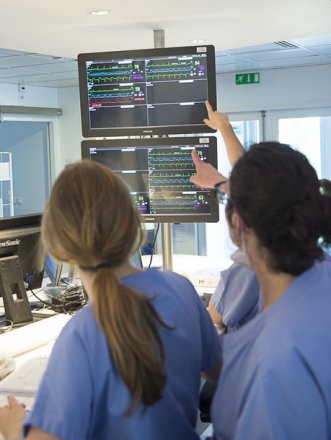 10 conseils pour votre coeur