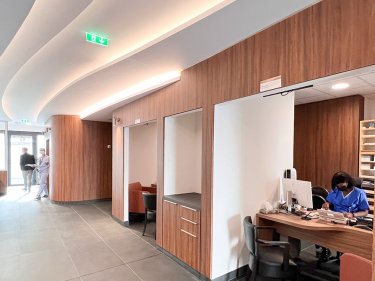 24/7 Medical Surgical Unit
Our 24/7 Medical Surgical Unit provides emergency care for acute medical and surgical problems to patients aged 16 and above, 24 hours a day, 7 days a week.
The 24/7 Medical Surgical Unit of the American Hospital of Paris is a center for consultations and care featuring premium diagnostic and testing facilities.
In addition to handling traditional medical emergencies, our unit is equipped to treat the following, 24 hours a day, seven days a week:
Cardiac emergencies (heart attack, rhythm disorders) with angioplasty and rhythm disorder diagnostics and testing.
Surgical emergencies (orthopedic, visceral, vascular) with specialists and an operating room at its disposal.
Endoscopic emergencies (digestive and bronchial).
Neurological emergencies with a neurologist on call.
Gynecologic and obstetric emergencies with a specialized sonographer and obstetrician on site.
Urological emergencies with an on-call urologist (24-hour care of kidney stones)
Dental and maxillofacial emergencies with a dental surgeon on call.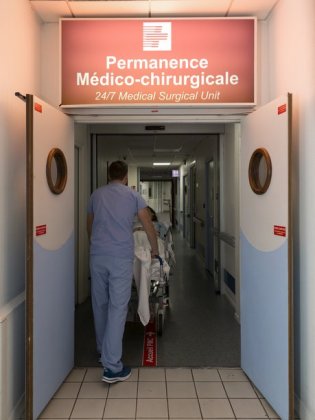 What Sets us Apart
Clinical lab and imaging available 24

The Hospital's diagnostic and testing facilities are available to our emergency physicians at all times: clinical laboratory, medical imaging, Doppler, interventional technology (interventional radiology, interventional cardiology, endoscopy).

Services in several languages

Our team members are bilingual (English/French). If needed, Chinese, Japanese and Arabic interpreters are available on site or by telephone, nights and weekends.

Specialists on call 24/7

Thanks to an on-call system, our emergency physicians can request support from one of 150 specialists accredited by the American Hospital of Paris if necessary.
The Four Steps of Your Care
1 - Admission

When you arrive, an administrative assistant and a nurse will assist you. After checking your vitals, the nurse will ask you a few questions while administering first aid in accordance with advanced care protocols for pain management, etc.

2 - Your medical care

You will be examined by a qualified bilingual emergency physician who will be your dedicated contact person within our unit.
All care is delivered in compliance with the latest recommendations issued by French and international learned societies.
After any additional exams have been performed, a diagnosis is made and you will be advised as to whether you may return home or be admitted to the hospital.

3 - Referral

You will be advised to either return home or be hospitalized (in the case of a surgical emergency, surgery can be scheduled immediately in the 24/7 operating room).
Based on your diagnosis, a follow-up consultation with a specialist from the American Hospital of Paris will be proposed upon your discharge from the 24/7 Medical Surgical Unit.

4 - Discharge

When you are discharged, you will receive:
- A summary of your visit and the results of any additional exams (translated into English on request)
- Your prescription
- A bill detailing the care you received and any additional exams.
Medical Team
The 24/7 Medical Surgical Unit is staffed by:
5 native French- or English-speaking bilingual emergency physicians who have more than ten years of experience and are members of the French society of emergency medicine.
A team of bilingual nurses trained in emergency care.
A team of bilingual administrative assistants.
The 24/7 Medical Surgical Unit operates around the clock. At minimum, the following are on site at all times:
One emergency physician (two emergency physicians on weekends and during peak hours)
One team of registered nurses and nurse's aides
Reception – open daily from 7:00 am to midnight
RENOVATION AND TRANSFORMATION OF THE 24/7 MEDICAL SURGICAL UNIT
The 24/7 Medical Surgical Unit has been renovated and transformed to increase its reception capacity and guarantee all patients a personalized and qualitative experience.
The new space, extended by 80 m², makes it possible to organize separate routes between "standing" patients and "lying down" patients, in order to streamline stays and reduce real waiting time. The circulation plan is based on the principle of "moving forward": between reception, care, examinations and discharge, the patient progresses constantly, without ever going back, which significantly improves the feeling of expectation. The modern, cozy and connected environment offers waiting rooms and individual rooms promoting comfort, intimacy and confidentiality.