Your appointment
ACCESS
The pedestrian entrance is located at:
55 boulevard du Château 92 200 Neuilly-Sur-Seine
Our visitor parking structure and drop-off area is located at:
40 rue Chauveau, 92 200 Neuilly-sur-Seine
Paid Parking. Free valet parking will be available from Monday to Friday from 7 am to 9 pm.
Your vehicle will be brought to a nearby parking lot and returned to you when you are ready to leave the Hospital
A porter is also on hand to assist you with your baggage or call a taxi for you.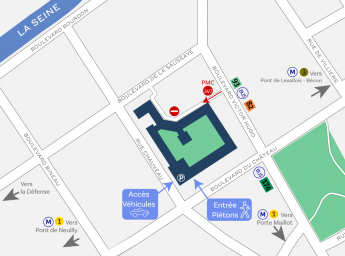 MASK AND HEALTH INSTRUCTIONS
To protect each othe, wearing a face is still required in certain departments or if you are in one of the following categories:
You have symptoms of an ENT or respiratory infection
You are at risk for developing a severe form of COVID-19 or you are immunocompromised
You have been exposed to someone with COVID-19
With the exception of minors, accompanying persons are not authorized (except medical exceptions and appointments at the Fetal Medicine Center). Thank you for your understanding.
Preparing your visit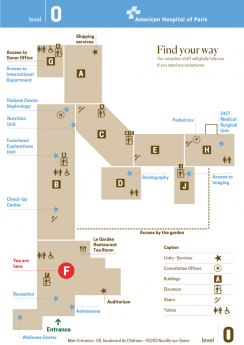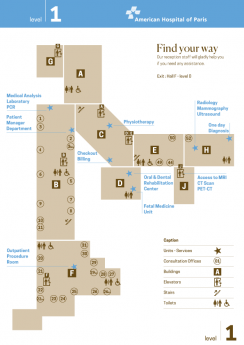 What to bring:
Government-issued photo ID

National ID card, passport or driver's license

If you are covered by the French national health insurance (Assurance Maladie)

Payment for your visit is made with the physician's receptionist

If you have private medical insurance, please bring  your member card with you

If your doctor gave you other instructions, please follow them.

If your doctor gave you other instructions, please follow them.
Consultations take place in an exceptional setting, where you will benefit from hospital amenities and preferential access to a full range of leading-edge diagnostic and testing services.
Outpatient Department consultations are available by appointment only.
ACCREDITED MEDICAL STAFF
All physicians at the American Hospital of Paris are accredited, meaning they must comply with strict quality standards and undergo continuous assessment, formalized every two years by a credentialing procedure.
American Hospital of Paris
American Hospital of Paris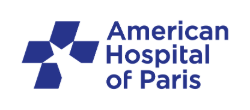 2019-08-19T11:02:30
2023-11-30T15:00:32