Vertebroplasty
The multidisciplinary team at the American Hospital of Paris can treat in under 24 hours any acute pain caused by spinal compression.
What is vertebroplasty?
When a vertebra is compressed or fractured, usually due to osteoporosis or metastatic cancer, the micro-movements of bone fragments can cause severe pain.
Vertebroplasty consists in injecting a specially formulated bone cement directly into the bone. The cement fuses the bone fragments together, thus strengthening the vertebra and relieving pain.
The procedure is performed under x-ray guidance on an outpatient basis. It is minimally invasive and leaves no scar.
What happens during a vertebroplasty procedure at the American Hospital of Paris?
Before the procedure, you will meet with an interventional radiologist, an anesthesiologist and a physician specialized in pain management. On the day of the procedure, you will be taken to the radiology room, and an IV will be placed.
The procedure is entirely painless. However, an anesthesiologist will stay with you to administer your choice of either a light sedative or general anesthesia.
An average procedure lasts 30 minutes.
First, a local anesthetic is applied to the skin lying over the compressed vertebra.
Then, a one-millimeter incision is made.
Using x-ray guidance, a hollow needle is inserted and precisely positioned inside the fractured vertebra.
The liquid bone cement is injected, and typically hardens within five minutes
After the procedure, you will remain under observation for two hours before returning home. If necessary, a rheumatologist or a pain physician will provide additional care.
How to prepare for a vertebroplasty
No particular preparation is required before the procedure. When you come for your preoperative consultation, bring any imaging results and lab reports that you have.
You will receive a prescription for a blood test in order to check your coagulation profile. You must bring the results of this blood test with you on the day of the procedure. You will also need to provide a list of any medicines you are taking.
What are the outcomes of vertebroplasty?
Recent studies show a significant reduction in pain and in complications arising from spinal compression, enabling patients to quickly resume their regular activities.
In accordance with Article 53 of the French code of conduct for medical professionals, physician fees must be determined with tact and moderation and fall within the national average.
You will benefit from the medical expertise and safety of a bona fide hospital and receive exclusive care delivered by our anesthesiology team and paramedical staff, all in a pleasant and comfortable environment.
American Hospital of Paris
American Hospital of Paris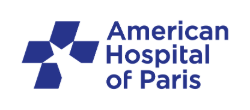 2020-09-10T11:20:35
2021-02-15T08:49:40