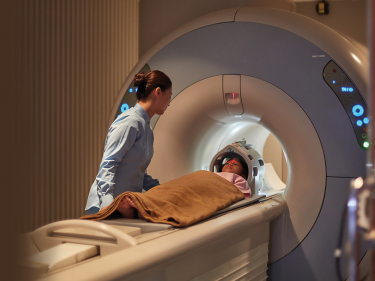 Medical Imaging
Our department combines the medical skills of highly-specialized, recognized radiologists with comprehensive state-of-the-art diagnostic and testing services to diagnose and monitor our patients' conditions.
Medical Imaging
Make an appointment
Make an appointment with the Medical Imaging department
Useful information
Contacts
Nuclear Medicine and PET scan
Directions
Radiology, ultrasound, mammography
Office Wing H - Level 1
MRI, PETScan
Building J - Level -1
Scintigraphy
Wing H / niveau -1
Most Frequent Exams
Central nervous system disorders: vascular (AVC), neurodegenerative (Alzheimer's, Parkinson's), inflammatory (MS), tumor, etc.

Cardiovascular disorders: exploration of coronary arteries, heart muscle, aorta and arteries of the limbs

Musculoskeletal disorders: trauma and sports injuries; degenerative and inflammatory diseases. Joints, muscles, tendons

Women's disorders: breasts, pelvis and ovaries (endometriosis)

Abdominal disease: liver, pancreas, small intestine, colon (tumor, inflammation, vascular disease)

Urological pathology: prostate (adenoma and cancer), kidneys, bladder

Imaging in children: all pathologies, all types of exams
State-of-the-Art Technology
Our Medical Imaging department allows us to explore all pathologies, regardless of the organ concerned.
Organizationally, it is part of an Imaging Center, with the Nuclear Medicine Unit and the Interventional Radiology Unit. This structure allows us to optimize the patient journey by choosing the most appropriate technique for each case and to offer comprehensive diagnostic services and therapeutic treatment, through minimally-invasive procedures in interventional radiology.
The comprehensive diagnostic and testing services have state-of-the-art technology: from mammography (by tomosynthesis, one of the most high-performance machines on the market) to MRIs (two latest-generation machines, including a University-type 3T), including CT scanners (two very new systems, one with a 256-slice detector and the other with a spectral imaging module) and ultrasound machines (with the recent acquisition of a very high resolution machine).
The radiologists are all organ specialists, which allows them to respond with the best possible medical solution for each patient. For difficult cases, our structure makes it possible to get a new reading or a second opinion very quickly.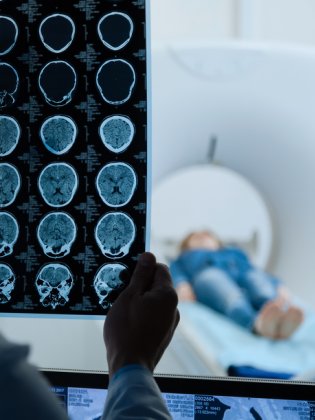 Treatments & Exams
Functional imaging beyond morphological imaging

With medical specialization and the technological means, we can perform functional explorations (perfusion, spectroscopy, enhanced imaging, etc.) allowing us to increase the precision of morphological imaging, in particular for exploration of the central nervous system, heart, breast and prostate.

Imaging assisted by artificial intelligence

Artificial intelligence (AI) does not replace the radiologist. It helps the radiologist to be more efficient and make a diagnosis more quickly. We have AI tools for segmenting brain structures, and detecting pulmonary nodules and breast microcalcifications

A Considered Approach to Imaging

The comprehensive nature of the diagnostic and testing services enables us to offer each patient the most suitable diagnostic approach and monitoring.

Imagerie pédiatrique

Pediatric Imaging

Imaging for children is special and relies more on ultrasound and MRI than the CT scanner, but also sometimes requires sedation or anesthesia. We have a pediatric radiologist, a pediatric nurse and a pediatric anesthesiologist, allowing us to perform all imaging procedures for children.
What Sets Us Apart
A highly technical medical and paramedical team

Our extremely specialized radiologists and radiology technicians (who perform only two different procedures) are true reflections of the quality of care we provide to our patients.

State-of-the-art diagnostic and testing service

This comprehensive diagnostic and testing service is dedicated solely to patients at the American Hospital of Paris. It benefits from very close technological monitoring, thanks to partnerships with manufacturers and in the artificial intelligence field.

Pleasant and welcoming premises

Our new, bright and spacious imaging building is devoted to CT scanner and MRI explorations, and offers patients a personal welcome.
Imagerie médicale pédiatrique
Une radio-pédiatre est présente à l'Hôpital Américain pour réaliser les examens des enfants quelle que soit la modalité ou la pathologie : IRM pédiatrique, scanner pédiatrique, radio pédiatrique, échographie pédiatrique.
Les rendez-vous se prennent par téléphone au 01 46 41 25 55.