Breast Reconstruction following a Mastectomy
The Plastic Surgery Unit of the American Hospital of Paris offers a full range of breast reconstruction techniques – both traditional and innovative – for patients who have undergone a mastectomy to treat breast cancer or as a preventive measure in the case of certain high-risk genetic mutations.
Our wide range of options allows women to benefit from the reconstruction method most suited to their needs:
Implant-based reconstruction
Autologous reconstruction using microsurgical techniques, with no insertion of foreign bodies: DIEP, TUG or PAP flap procedures, latissimus dorsi flap method, lipofilling.
The American Hospital of Paris has the diagnostic and technological infrastructure required to perform these procedures, including an intensive care unit, microscopes, lasers, tissue oximetry for flap monitoring, and leading-edge equipment for lipofilling.
What is breast reconstruction?
Breast reconstruction is a process comprising several surgical procedures whose goal is to restore the bust as naturally as possible following the removal of one or both breasts to treat breast cancer.
The first step of reconstruction generally consists in building volume in the breast. Various methods are available, including the use of breast implants, the patient's own fat (lipofilling) or tissue that is taken from the patient's abdomen, back or thighs (flaps).
The second step is a symmetry procedure and usually takes place three months after the first step. It consists in operating on the other breast to ensure it matches the reconstructed breast as closely as possible in terms of volume and shape.
The final step is the reconstruction of the areola and nipple.
When is breast reconstruction needed?
Breast reconstruction usually takes place following a mastectomy – the complete removal of a breast – performed to treat breast cancer.
In some very specific situations, reconstruction can be performed at the same time as the mastectomy. In this case it is called immediate breast reconstruction. Otherwise, reconstruction takes place when the other treatments such as chemotherapy or radiation therapy have been completed. This is known as secondary, or delayed, reconstruction.
Lastly, tertiary reconstruction is when a new breast reconstruction is performed following a failed procedure or the onset of complications such as capsular contracture.
Implant-based reconstruction
This is the most common breast reconstruction method. It generally consists in placing a breast implant under the pectoral muscle in order to recreate the breast's volume.
This method is only possible if the breast tissue is sufficiently supple.
In some cases, particularly following radiation therapy, the skin is damaged and lacks elasticity, eliminating the possibility of implants.
The procedure lasts one to two hours and requires one to four days in the hospital, depending on the patient.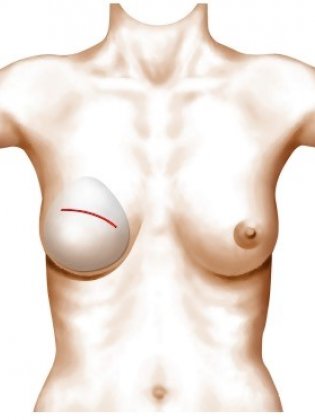 Latissimus Dorsi Flap Reconstruction
This technique is for patients who are unable to receive implants because their skin is not elastic enough, or who prefer a procedure which uses their own tissues, known as autologous reconstruction.
The latissimus dorsi flap procedure consists in transferring skin, fat and muscle tissues from to back to the breast to rebuild its shape.
The procedure usually lasts two to four hours and requires four to six days in the hospital.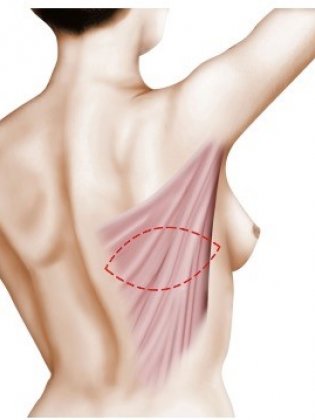 DIEP Reconstruction
Like the latissimus dorsi flap procedure, DIEP reconstruction is for patients who are unable or do not wish to receive implants. With the DIEP technique, skin, fat and the surrounding vessels (artery and vein) are taken from the lower abdomen and reconnected to the breast by microsurgery.
This method results in very natural-looking breasts.
The procedure lasts four to seven hours and requires five to seven days in the hospital.
Other techniques similar to DIEP can be used on patients with insufficient abdominal tissue. These include the PAP and TUG flap procedures, which respectively use tissues from the crease under the buttocks and the inner thigh.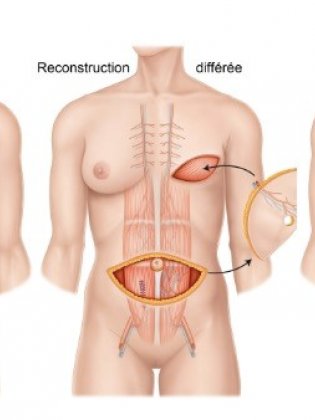 Fat injection (lipofilling) Breast Reconstruction
Fat injection, or lipofilling, is a procedure in which fat is removed from the body through tiny incisions via the liposuction technique. It is then purified and reinjected into the breast using narrow cannulas.
This method is frequently used in conjunction with implants or flap reconstruction procedures, to increase the breast's volume or enhance the result (e.g. conceal an indentation). It offers very natural-looking results.
Lipofilling can also be used on its own over the course of several sessions to gradually rebuild breast volume.
This method is only available for women with supple skin and fairly large fat reserves, or to reconstruct small sized breasts.
Lipofilling can be an outpatient procedure and usually lasts one to two hours.
Les différents types de reconstruction en vidéo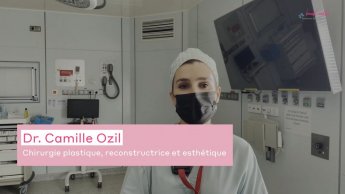 Reconstruction primaire ou secondaire : choisir une technique de reconstruction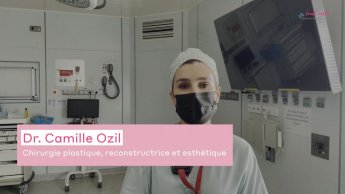 RETOUR VERS LA PAGE DU BREAST CENTER
VERS LA PAGE CONSACRÉE À NOTRE PRISE EN CHARGE GLOBALE DU CANCER DU SEIN
Learn more
Vivre et se reconstruire après un cancer du sein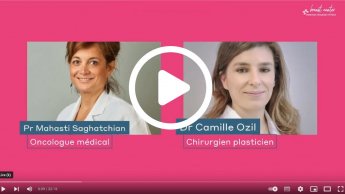 American Hospital of Paris
American Hospital of Paris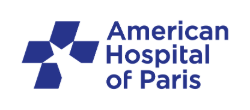 2020-01-13T15:45:41
2022-11-30T16:40:47